Hamato Donatello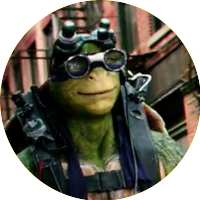 NAME:
Hamato Donatello
NICKNAMES:
Donnie
AGE:
17
GENDER:
Male
RACE:
Mutated Turtle
GROUP:
The Hamato Clan
WEIGHT:
OCCUPATION:


about


Appearance: wears a purple mask, has maroon or ,in some light settings, reddish eyes, a gap in his teeth near the front of the mouth, has a very noticeable Addams apple , he is six foot four inches, wears a dark brown belt across the plastron with a gold buckle, his middle is snapped like a tall box and his shell is more narrow as a result, he has brown elbo and knee pads and foot coverings, white wrappings over his fingers, several battle marks on his shell, he is not very muscular but isnt to skinny. And is offten carrying a bo staff on his back.

Personally: donatello is very geeky . afften in his lab , considering his loner attitude. Sometimes he will venture out into the lair  , and watch TV with the brothers or part take in a game of pin-ball or train together. Donnie is very smart, always working on newer and harder problems .often building stress in him causing sudden out bursts when the other bothers bug him or touch his stuff. He likes things done his own unique way. He is very inventive always coming up with new ideas in the heat of pressure. He has a huge crush on April and offren is shy and unstable around her . he and Casey Jones have a bit of a rivalry for her heart . other then that Donnie is very calm and collected .






history




Donnie at the begging in was a baby normal turtle. A man adopted him and the three other baby turtles in the tank and was going to take them home but got into a fight with a kraang droid. The mutagen being transfered was spilled and the baby turtles where dumped into the ooz by accident. Mutating them to mutant human turtle hybrids, their master , splinter or Yoshi Hamato, was mutated into a rat. He took them I to the sewers to protect them from the people above . loving them all dearly and equally, naming them after his favorite Renaissance painters and sculptures. Teaching them all the art of the ninja.